Meeting with Royston City Council
Jul 14, 2015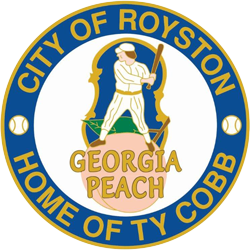 Steve Fortmann met with the Royston City Council to lay out his plans for Paladin Wireless. Foremost in the plan to provide high speed internet to the area is finding suitable locations for broadcast antennas. Municipal water towers are extremely advantageous and allow for quick deployment of network assets and turn up times.
Steve has been in discussion with Royston's City Manager about the possibility of leasing space on the water towers tank railing and was put on the agenda for the Council Meeting on 14 July.
In the meeting Steve explained his plan to provide fast affordable high speed internet to the residents and businesses of Royston using secure wireless internet technology.
Steve also brought production equipment to illustrate the size of the antennas and customer equipment that makes everything possible. He also explained that not having reliable high speed internet available to all of Royston is a barrier to life. It impacts children's abilities to complete homework assignments and hinders businesses by preventing them from utilizing cost saving high bandwidth applications.
Where traditional wired carriers can take anywhere from 30 to 180 days to install at a customer location the wireless product can be installed in a matter of days.
The meeting went well and approval to use the tank is dependent on Verizon wireless's approval as they rent the water tower's top for their cell phone network.
Tags: